*Major spoilers for those who haven't read the manga!*
Note: this review does NOT encompass the entire storyline as it was written before the manga was complete.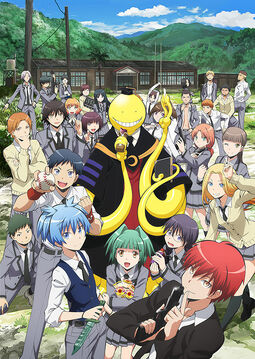 At first glance, this anime seems like your run-of-the-mill school-life gag anime. However, this is far from what Assassination Classroom is. For someone who doesn't watch much shounen anime, Assassination Classroom gave me an experience that I enjoyed greatly. With plot twists such as Kaeda Kayano's true identity, intense face-offs between Koro-sensei and Gakuho Asano, AssClass successfully keeps its audience on the edge of their seats. Its solid and interesting plot, coupled with inspirational words from Koro-sensei make it unique and often even insightful.
The presence of a trap character (Nagisa), although seemingly clichéd at first, actually plays a huge part in his role as an assassin. The ability to appear demure and calm to lower his opponent's guard whilst approaching for the kill is highly valued and his femininity serves to amplify that talent. With a smile on his face, he approaches the target and stabs with a blood lust that shocks even Karasuma. Of course, his feminine charms have been utilized in other ways such as cross-dressing to avoid being caught during an infiltration. The reason for his features is explained to be a result of his mother's influence. Having failed to achieve her dreams during her youth, she imposes them upon Nagisa and sees him not as her son, but as a second chance to achieve vicariously what she herself could not in person.
This was the aspect of the anime that got me really  into it. The realism of the characters and topics come as a surprise, considering shounen anime are usually more light-hearted and played for laughs. Relatively serious topics such as education methods are raised and its complexity displayed for the audience to consider. From the dictatorial father figure of Takaoka (which works on the theory of giving small reward after extensively harsh training to instill obedience and gratefulness) to Gakuho Asano's fear instilling brainwashing methods, we are shown the boon and bane of each methodology, a reminder that there is no true "right" way to teach.
When it comes to character, Gakuho Asano easily takes the top place on my list of favourites. A harsh father and a scheming individual, he seem to have all the traits of a hate-worthy antagonist. However, this is exactly what draws me in about him. Despite these flaws, he has enough charisma and a slick enough tongue to be able to persuade others on the point of brainwashing. This power over authority (eg.Ministry of Defence) he has is awe-inspiring and at the same time, gives me chills. He can instil pride in his students as as easily as he can terrify them.
It is only later in the manga that feelings of empathy and respect are explored in flashbacks. Surprisingly, his previous teaching methods were almost identical to Koro-sensei's (even the assassination part) and he was loved by students. However, after one of his graduate student commits suicide due to bullying in school, his pedagogy takes a 180 degree turnaround. Rather than just improve on the innate abilities of students, he develops an obsession to empower his students and make them stand up for themselves in the face of adversity. It is then that I felt pity for the loss of a once kind-hearted and talented educator. Although his concept of education may seem rather warped, I feel that he is a victim of circumstance.
All in all, Assassination Classroom has been an extremely enjoyable journey and I look forwards to the release of the rest of the story. Showcasing an interesting plot, amazing fight scenes and puns, Assassination Classroom encompasses the essence of education psychology, shounen and comedy — a killer combination!  Let the assassinations begin!